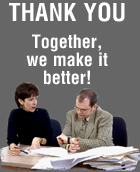 " ... must let you know how impressed I am with the quality and graphics of your work. I often download games from the internet for the children to play, but I must say I think yours are some of the best I've seen. " - Dawn H.
"Totally awesome! The Mind Snap game is a blast! Not only is it fun, but the interface, and everything is beautiful! Very cheerful, clean looking, well... wonderful in everyway." - E. Barry
"Just to let you know I HATE your Spot the Diff Program .. YOU OWE ME 1 new keyboard. 1 new mouse... And a Hair transplant !!!" - Wayne
"It is great !!!! I am really impressed." - Roman 'Oscar' Voskar, author of Multimedia Builder software.
"... but when I looked at your games the quality is on another level, I realize the effort you must have put in them. All the games are of equal high standard, and a joy to play." - Christopher C.
"...and the ideas are tremendous - I particularly liked the sliding one - reminded me of when I was a kid... Keep up the good works." - Frank C.
"Very impressive! I like everything about it. I wish you all the success with it." - Terry L.
"I've tried your games and they're great. The graphics are really neat." - Mark J.
"Most of your games design and the kiddy recall are so colourful and nice, I like it!" - Hou Soon Ming
"I wanted to tell you that my teenage girls love your games and to keep up the work" - Dana